Have you ever needed a gift but didn't know what to buy? Ever decided to give pottery you painted but couldn't think of a design? When starting with a plain white piece of pottery, it's hard to imagine what the finished product will look like. Check out these customer pieces that went from white to WOW.
Geometric shapes always work. Add some pops of color and you've got yourself a funky bowl: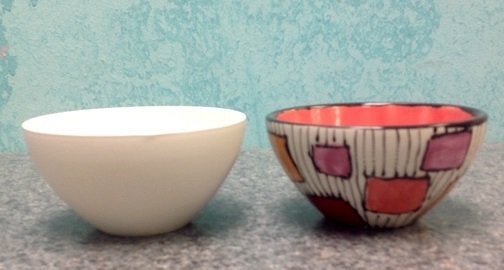 Painting this tree trunk vase realistically results in a striking final product: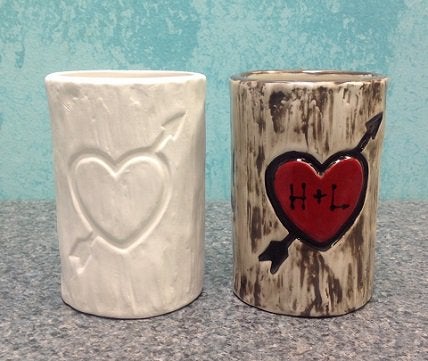 This customer turned a plain white plate into a cute holiday cookie platter with an simple design: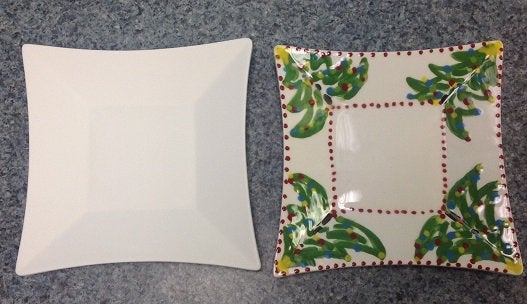 #ClayCafeStudios has tons of ideas and tools to help you create a masterpiece you'll be proud to give!

For many years, #ClayCafeStudios has been teaching after-school art enrichment classes in the local schools. Two schools where we currently teach are Kent Gardens Elementary and Haycock Elementary, both in #FairfaxCounty.

At Kent Gardens, our current class is Play with Clay. Each week, students make a project by hand-building with clay. The following week, they paint their clay creation.
Here is one of the fun projects students are painting after sculpting and molding their clay:
At Haycock, students have been learning various #potterypainting techniques in our Wild and Crazy Pottery class. At the end of the 8-week session, each child will have 8 pieces of pottery to take home and use.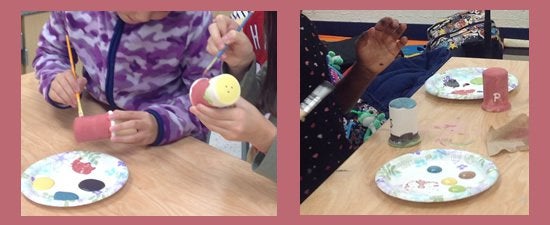 Check out the artists in action:
If you are interested in our after-school art enrichment classes at your school, please contact Gayla at 703-646-6007 or ghassett@cox.net.

Depending on where you live, #pottery is the traditional gift for either your 8th or 9th anniversary. Why pottery? The history behind the gift is that pottery is a source of continuing sustenance. The pot carrying the water of life symbolizes the future of the couple.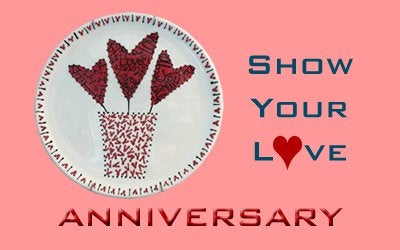 The historic origins of wedding anniversaries date back to the Holy Roman Empire, when husbands crowned their wives with a silver wreath on their 25th anniversary and a gold wreath on their 50th. In the 20th century, commercialism led to anniversaries being represented by a named gift. Not necessarily a gold or silver tiara, but something more practical.
Which brings us to pottery. Even though it's a traditional gift, why not put a modern spin on it and make your own? Come to #ClayCafeStudios and paint something together for your home. As a surprise, why not give a gift certificate to your spouse for a pottery date? You and your husband or wife could even paint something for each other to commemorate the day.
Whether you stick to the tradition of giving a specific gift on a special anniversary or you just want to have fun, come to #ClayCafeStudios and we promise you will have a memorable day!



Are you bored with the typical date night "dinner and a movie?" Whether you are on a first date or married and need a night out with your spouse, you are probably looking for something fun and creative to do. How about a #potterypainting date?
Paint Something for Each Other
Why not paint a mug or bowl for each other? You can personalize it with your pet name for each other or illustrate hobbies or things you like to do together. Later, use your pottery to drink your favorite coffee or eat your cereal and relive the great time you had together.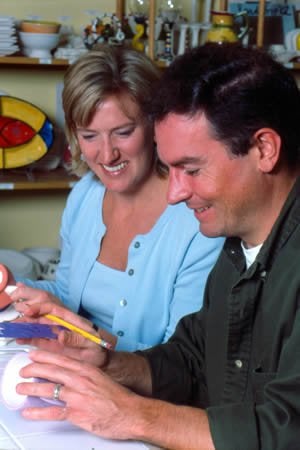 Paint Something Together
How about creating a one-of-a-kind platter together? A hand-painted gift is great for an occasion like your anniversary. It's also fun to paint something quirky to document your fun date.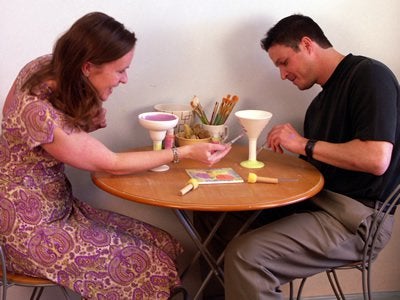 Paint Gifts for the Holidays
If you have a big holiday gift list, why not get started on your handmade presents? Paint a personalized ornament for every member of the family or something functional for everyone to share. Friends and family love personalized gifts and you can show off your painting talents by making some lovely keepsakes. Clay Cafe Studios staff can show you lots of easy techniques to create that special gift.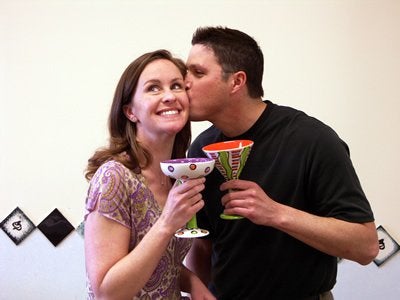 Painting-your-own-pottery might be an unconventional date, but we guarantee you'll have fun. Maybe you can even take a few #selfies to share your experience while making memorable #handmadeholidays together.
Yes, we know. It's not even Halloween yet and we are talking about Christmas. Yikes! However, it's never too early to get started on your #handmadeholidays at #ClayCaféStudios.
Painting someone that one-of-a-kind gift that no one else has is definitely a labor of love. Here are 3 ways to create those special gifts
Personalized Ornaments
We have tons of ornaments just waiting to be personalized. Our ball ornaments have space for a name and the year. We have monogrammed ornaments from A to Z. There's hundreds of ornaments, including #StarWars, sugar skulls and emojis.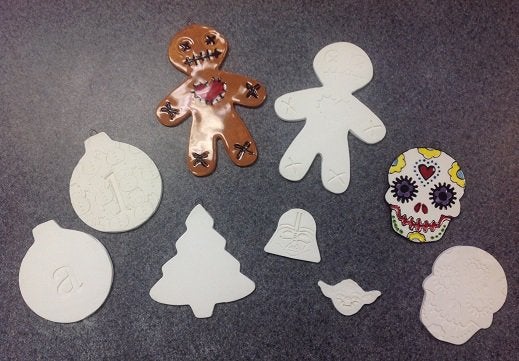 Handprint/Footprint Pottery
Ball Ornaments are great for adding a child's hand or footprint. Mugs, plates and platters also make good canvases. Parents, grandparents, aunts and uncles all love a collectible with a baby print. Clay Café staff is always there to help you express your creativity. We'll even do the lettering for you.
FUNctional Pottery
Reindeer platters, gingerbread and snowman plates, and holiday-themed mugs will all put some pizzazz on your holiday table. Don't forget a "Cookies for Santa" plate! Imagine your holiday table set with your hand-painted masterpieces.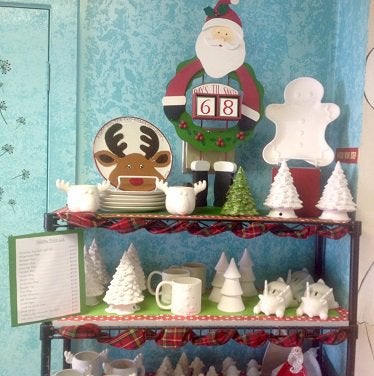 Our new lighted Christmas trees are a staff favorite. They come complete with a light kit and colorful lights. Make a new family heirloom by painting this tree together.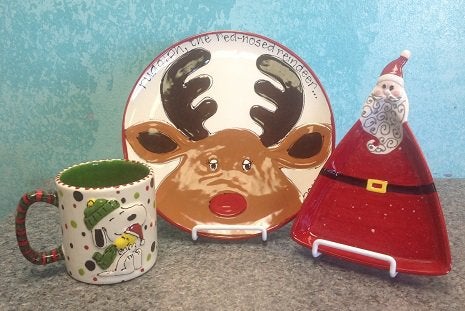 Come in anytime and see our wonderful selection of holiday pottery. We are open every day (but Thanksgiving) until Christmas!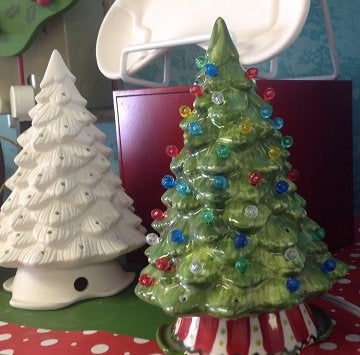 Did you know that October 17 is #NationalPastaDay? It's a great day to celebrate one of the world's favorite foods.
Pasta dates back to 1154 A.D. Italy. In fact, Thomas Jefferson introduced pasta to the Americas after tasting it in Naples, Italy when he was the American Ambassador to France in 1785.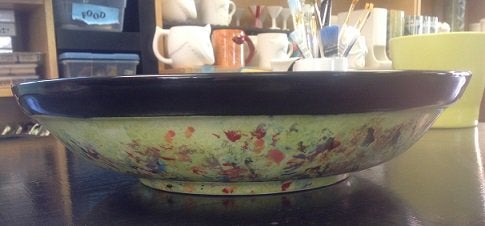 There are over 600 pasta shapes in the world, each with a different name. Check out #ClayCafeStudios hand-painted pasta bowl for some of our favorites.
FUN FACT: A typical Italian person eats over 60 lbs. of pasta a year. A typical American eats around 20 lbs. a year. Wow!
So join us for #NationalPastaDay and come paint a bowl to hold your favorite noodles!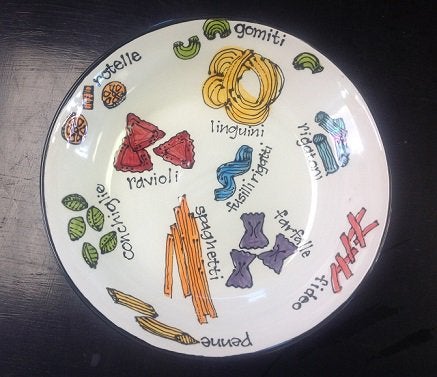 It's time to gobble, gobble 'til you wobble. Thanksgiving is a great time to connect with friends and family. In the spirit of the holiday, here are some things you can do together.
Pottery
Come paint a platter for your turkey or a special plate or plaque about being grateful. Painting is a great activity you can do together to create lasting family memories. We have lots of plates, platters and bowls that would be perfect for serving your Thanksgiving favorites. Cookie plates, platters and message plaques also make great hostess gifts.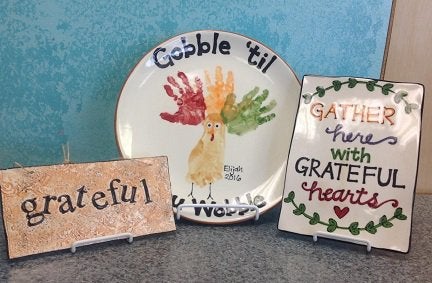 Food
Kids love to cook, so why not get them involved in the process? If they help with the preparation, they will be more likely to eat what they make. Here is a delicious and easy recipe for pumpkin cups you can make with your kids. Dessert is the best part of thanksgiving, right?
DIY Craft
To help you and your family and friends count their blessings and express how thankful they are for all they have, here is a sweet "I am thankful" pumpkin craft. These would also be great for place cards at your Thanksgiving table.
If you have an idea for something fun to make for the holiday or need some inspiration, come by the studio or contact Gayla at 703/646-6007. We hope your holiday is full of friends and family, good food and lots of fun!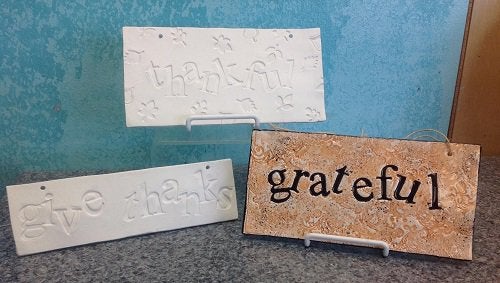 Get in the Halloween spirit with our pottery, food/drink and DIY ideas.
Pottery
Do you dread pulling out your old decorations from last year (and the year before…)? Why not punch up your Halloween décor with some hand-painted pottery?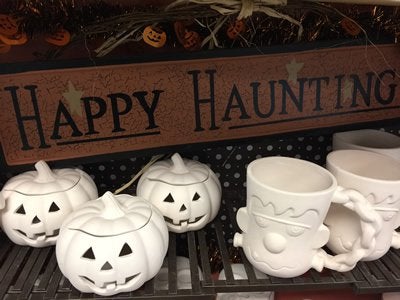 We have jack o'lanterns that look great with a candle burning inside or a personalized pumpkin with your family name. For your favorite fall drink, we have Frankenstein, witch and skull mugs. We also have a crazy Frankenstein head where the mouth is the candy bowl for your trick-or-treaters.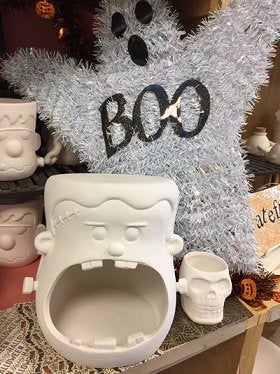 Food/Drink Recipes
Are you having a Halloween party? We found some great snacks and appetizers you can serve that will be a big hit. Our favorite is the mummy dog!
Halloween Party Appetizers
How about some non-alcoholic dragon's punch to quench your guests thirst!
Dragons Blood Punch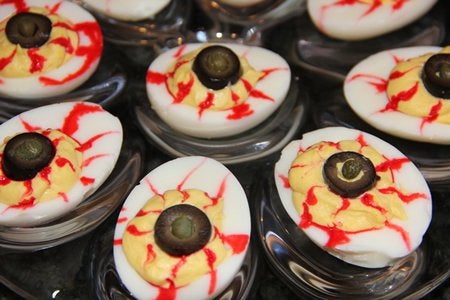 DIY With Your Kids
Fall is the perfect time to do some DIYing with your kids. Why not start with Halloween and paint this funky Frankenstein pumpkin?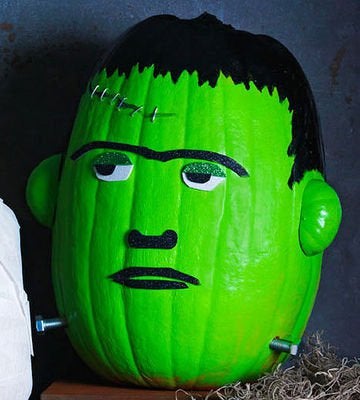 For more information, call Gayla at 703-646-6007 or drop by and "get your spook on!"

Guess what today is? September 26 is National Pancake Day. Just saying that makes us smile. Who doesn't love pancakes?
Archeological evidence suggests that pancakes were probably the earliest and most widespread cereal food eaten in prehistoric societies. It is believed that the ancient Greeks and Romans ate their pancakes sweetened with honey. Elizabethans ate them flavored with spices, rosemary, apples and even sherry. In modern times, pancakes are traditionally eaten on Fat Tuesday, a day of feasting and partying before the beginning of Lent. Potato pancakes, called latkes, are prepared as part of Hanukkah.
You can call them pancakes, hot cakes, latkes or flapjacks. You can put fruit, syrup, jam or even chocolate on them. Join us in celebrating this fun day and eat some pancakes!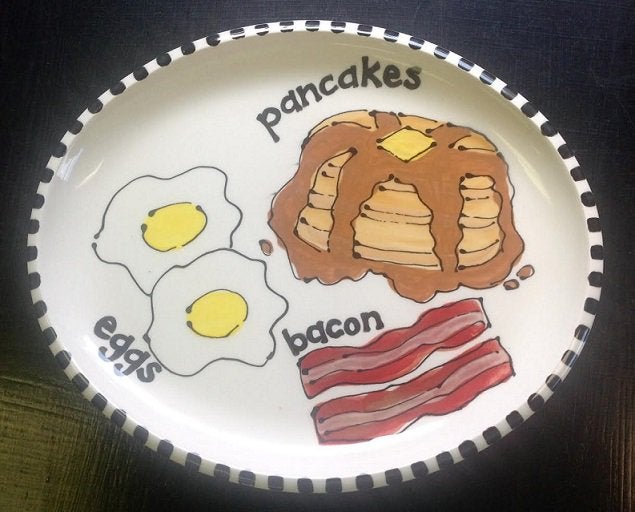 Archives
2018
2017
2016
2007
2006
2005
2004
2003
2002
2001