Ladies' Night Out, Girls' Night Out or Moms' Night Out. Whatever you call it, it's a great idea.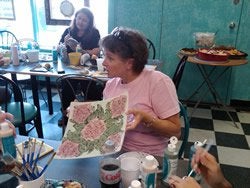 Female Bonding
Getting together with your female friends is important. Face time, not texting or emailing, builds friendships and forges connections that technology can't match.
Stress-Reliever
When you meet with friends, you shares stories, opinions and laughter. Having dinner together, crafting together or just chatting takes you out of your usual day-to-day stress and allows you to do something fun and relaxing.
Time for Yourself is Important
Being able to devote an evening to yourself, not your kids, spouse, boss or parents helps you blow off steam and decompress. Taking time for you can help make you better equipped to meet the demands you face every day.
A great idea for a Ladies' Night Out is to come to Clay Cafe for a fun time of painting and connecting with friends. With 10 or more people, you can come at 7 pm Monday -Thursday and have the studio to yourself. The only rule is no kids! Bring food and drink, paint some pottery (or do some glass fusing) and have a great evening. Call Gayla at Clay Cafe (703-646-6007) if you have any questions or visit our website .