What Better Way to Celebrate with Friends, Family, or Co-Workers?
Having an art-inspired party is a great idea for all ages. In addition to birthday parties for both children and adults, art-themed parties are also ideal for bridal showers and engagement parties. The bride and groom can pick out a color palette or specific pottery they would like the guests to paint for them. In addition to bridal parties, corporate groups can incorporate painting into a team-building exercise. Another option for parties are baby showers, where guests can paint baby-themed pottery for the parents-to-be and new baby.
An art-inspired party is an enriching way to entertain your guests and to have fun, too. Just thinking about art gets the creative juices flowing and what better way to promote budding artists than to have an art-themed party. The best part is that the party guests (or honorees) will have a permanent memento of the fun time they had.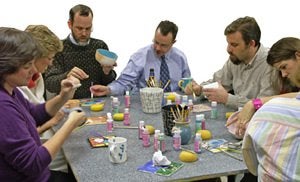 Clay Cafe Studios' 1 1/2-hour Party
In our 1 1/2-hour party, guests paint about an hour and then have time for cake or other snacks. Guests choose a pottery piece to paint from hundreds of choices. We provide a party host/hostess, instruction and materials, and glazing and firing of the masterpieces once complete.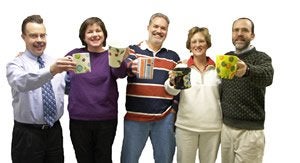 Clay Cafe Studios' 2-hour Party
Do you want to eat more than just cake or snacks? Then the 2-hour party is for you. This additional 30 minutes gives you time to also have pizza.
Catered Clay (mobile party)
Do you want us to come to you? Would you rather have the convenience of having the party in your home? We bring everything to you (paint, pottery and brushes) and provide a party host/hostess to guide your group through the activity. This works especially well with large groups or if painting pottery is one activity in a larger event you have planned.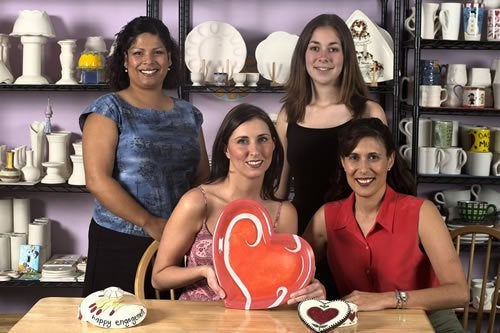 Please call Gayla at (703)-646-6007 with questions or visit our website if you have my questions or would like to book a party with Clay Cafe Studios.