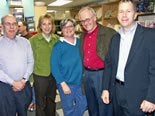 Clay Café Studios 6th Annual Family Fundraiser to benefit the Falls Church Homeless Shelter was a huge success!
Family, friends, community leaders, and business owners joined together in an evening of camaraderie and painting pottery for the 2-hour event on December 6th. Clay Café Studios is donating all of the profits from the evening amounting to $2,000 – a 30% increase over last year's event.
Thanks to generous donations from Dr. Steve Rogers of the Falls Church Animal Hospital and Bob Young of the Young Group, refreshments from Zpizza and Kendalls, and support and assistance from the Greater Falls Church Chamber of Commerce, this year's event was a lot of fun and a big success.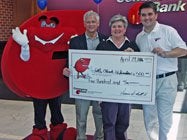 The Commerce Bank has named Clay Café Studios owner Helene Safford as their "Hometown Hero" to recognize her for going great things in volunteering her time and energy to the community.
Commerce Bank will be making a $500 contribution to the charity of her choice. Helene Safford has chosen the Falls Church Education Foundation to be the recipient of the donation.
The event is being held on Saturday April 29, 2006 at the Commerce Bank branch located at 6198-A Arlington Blvd, Falls Church, VA, in the Wilston Center.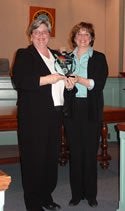 The Falls Church City Council, Economic Development Authority, Environmental Services Council, and the Greater Falls Church Chamber of Commerce honored Clay Cafe Studios owner Helene Safford awarding her the prestigious 2005 Business Person of the Year award.
Nominated by the public and local business owners, Helene was chosen as a person who has "demonstrated extraordinary personal contributions to the community, innovative thinking in response to business challenges encountered, and leadership qualities in the community and business spheres."
The Business Awards Ceremony was held at City Hall on Wednesday, Jan. 25, 2006. Ms. Safford accepted the award thanking all of her family and business partners stating "my best advice to other businesses is to support your community and they will support you."
Archives
2018
2017
2016
2007
2006
2005
2004
2003
2002
2001