5 Great Gift Ideas for Mother's Day
Mother's Day will be here before we know it. Motherhood is a demanding, exhausting, humbling and rewarding experience. Our Moms do everything for us. Mother's Day is a day to thank Mom for all those things she does, both big and small, just because she loves us.
Here are 5 pottery-themed ideas that Mom will love:
TIME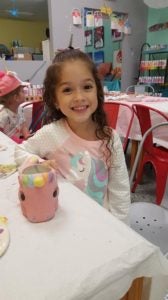 Let's face it, Moms really like it when we spend time with them. How about a pottery date for you and Mom? It's a fun and relaxing way to spend the afternoon with each other. The added bonus is that you have a memento from that day.
HOBBY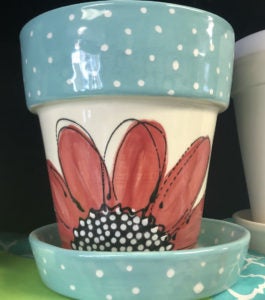 For the Mom that is the family gardener, how about painting her a flower pot? Once its fired, you can plant a beautiful lavender plant or the flowers of her choice.
MEMORY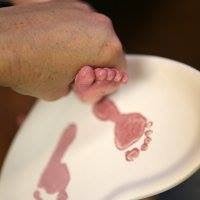 This is where Dads come in. Why not bring your baby or toddler to our studio and get their handprint or footprint on pottery? This is a special memento that Mom will cherish forever.
HUMOR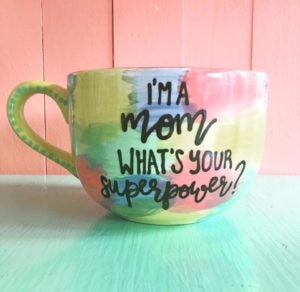 Does your Mom appreciate funny sayings or have a good sense-of-humor? Why not paint her a mug with a clever quote or comment. A couple of popular ones are "Thanks, Mom, I turned out awesome!" and "Don't talk to Mom until she's had her coffee."
APPRECIATION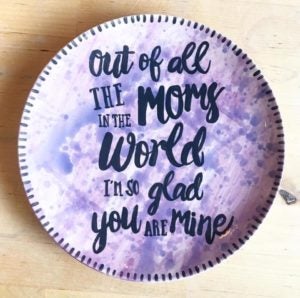 You could paint a plate listing all the things you love about Mom. Tell her why she is remarkable and how you can't live without her.
These are just a few ideas for Mother's Day. Come in to the studio and we can show you more!
Archives
2020
2019
2018
2017
2016
2007
2006
2005
2004
2003
2002
2001