Yes, we know. It's not even Halloween yet and we are talking about Christmas. Yikes! However, it's never too early to get started on your #handmadeholidays at #ClayCaféStudios.
Painting someone that one-of-a-kind gift that no one else has is definitely a labor of love. Here are 3 ways to create those special gifts
Personalized Ornaments
We have tons of ornaments just waiting to be personalized. Our ball ornaments have space for a name and the year. We have monogrammed ornaments from A to Z. There's hundreds of ornaments, including #StarWars, sugar skulls and emojis.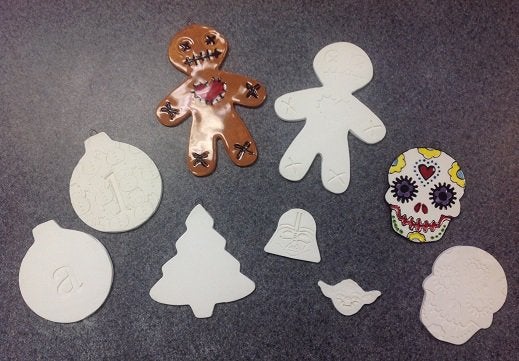 Handprint/Footprint Pottery
Ball Ornaments are great for adding a child's hand or footprint. Mugs, plates and platters also make good canvases. Parents, grandparents, aunts and uncles all love a collectible with a baby print. Clay Café staff is always there to help you express your creativity. We'll even do the lettering for you.
FUNctional Pottery
Reindeer platters, gingerbread and snowman plates, and holiday-themed mugs will all put some pizzazz on your holiday table. Don't forget a "Cookies for Santa" plate! Imagine your holiday table set with your hand-painted masterpieces.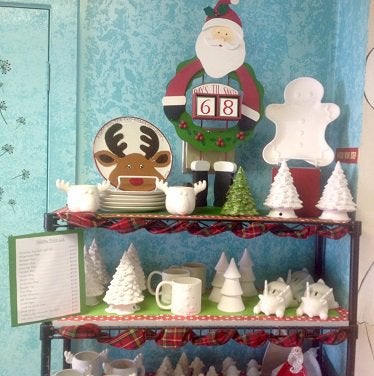 Our new lighted Christmas trees are a staff favorite. They come complete with a light kit and colorful lights. Make a new family heirloom by painting this tree together.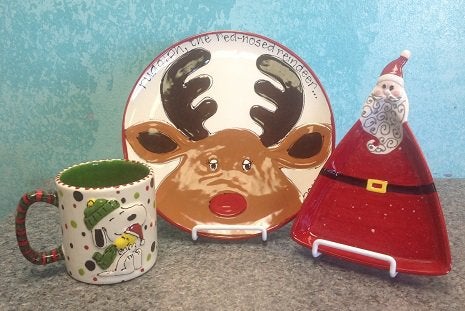 Come in anytime and see our wonderful selection of holiday pottery. We are open every day (but Thanksgiving) until Christmas!