Spring is school auction and fundraiser time. Ceramic art is a creative and popular auction item that raises much-needed funding for schools. Here are 3 ways we can help you generate those fundraising dollars.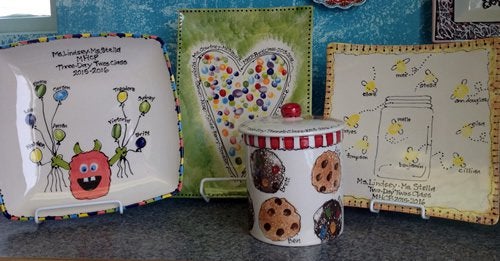 Pottery Painted by the Kids
You visit the studio and choose a pottery piece to buy, Clay Cafe Studios will loan you paint and you take it to your school to decorate. This is a great activity for students to participate in a community service to help raise funds for their school. After painting the pottery, you bring it back to us to glaze and fire. Handprints and fingerprints create cute and desirable art on platters, bowls and vases. Parents love to bid on pottery that their kids have helped to personalize. Clay Cafe Studios can help you with lettering and finish off your masterpiece. Perfect for a silent auction.
Studio VIP Cards
For every school that asks, Clay Cafe donates a Studio VIP Card. That card entitles the auction winner to 5 free studio sessions. No work on your part. You ask. We give. This is also a great addition to your silent auction.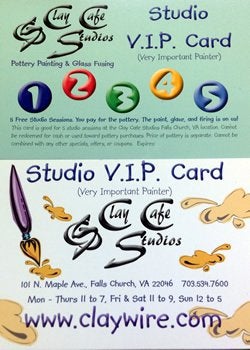 Group Fundraisers
You buy the pottery and paint from us. You charge a marked up price to each painter. The difference between what you pay us and what you charge painters will be your funds raised for the school. This is a great way to contribute school improvements such as creating a tile mural or other display and earn money for your school.
Please call Gayla at Clay Cafe (703-646-6007) if you have any questions or visit our website .