This time every spring, we have the privilege of custom painting some really cool awards for a traditional mystery writers' association, Malice Domestic, based in Bethesda.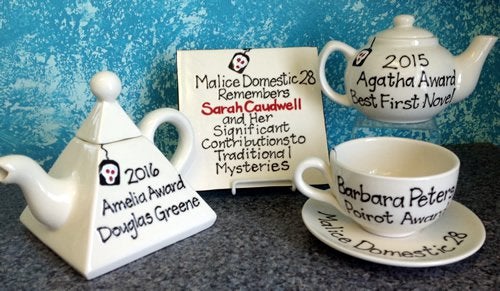 Malice Domestic's tag line is "If Traditional Mysteries are your cup of tea …" They have an annual "fun fan" convention, saluting the traditional mystery, books best typified by the works of Agatha Christie. In fact, their awards are called the "Agathas."
The award design is a ceramic teapot, with their logo, a teabag with a skull tag. In addition, they award some ceramic teacups and saucers with the same design. They are so much fun to paint!
It is a pleasure working with this organization and we encourage you to check them out.
Website: www.malicedomestic.org
Facebook: https://www.facebook.com/events/113613662353190/
Twitter: https://mobile.twitter.com/malice_domestic
Do you have an award or special presentation that needs something creative and unique to mark the occasion? Come in to the studio and check out the possibilities! For more information, call Gayla at Clay Cafe Studios at (703) 646-6007 or visit our website and fill out a contact request .