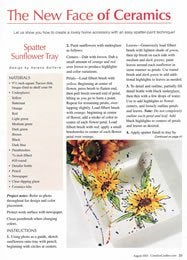 Helene Safford is the feature artist for a series of techniques articles in Creative Crafter magazine. Creative Crafter is a bi-monthly magazine featuring Crafting as a Lifestyle.
See the "New Face of Ceramics" excerpted below. Helene's work will appear in each issue of Creative Crafter in the upcoming year.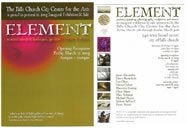 Works by Clay Cafe Studios owner and artist, Helene Safford were selected by the FCCCA chief curator, Lisa Chun, for inclusion in the inaugural exhibition and sale for the Falls Church City Center for the Arts. Gallery space located at 240 West Broad Street, Falls Church, was donated by the Oshinsky family and the show drew more than 1000 attendees to downtown Falls Church during the exhibition.
Excerpted from the Washington Post Style section "Out and About"
In Falls Church, Art for the City's Sake
If you paint it, they will come. The Falls Church City Center for the Arts splashed a brand-new look on an old storefront on Broad Street, and more than 800 people showed up for Friday's kickoff of the nonprofit community gallery. Artist Lisa Chun (near right, with Deb Yatsko) curated "Elements," its first exhibition, of pottery, painting, photography and sculpture. "We're using the arts as a catalyst to bring new energy and new people into Falls Church," said FCCCA Executive Director Peter Smirniotopoulos. It worked — and how. We thought "FC" stood for "fanny crush."
With Beth Buchanan © 2003 The Washington Post
Archives
2018
2017
2016
2007
2006
2005
2004
2003
2002
2001